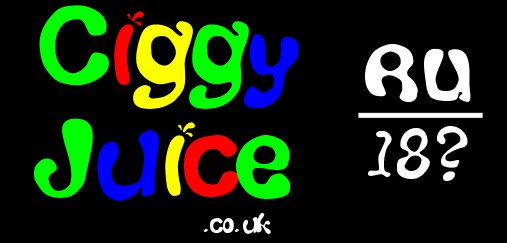 Website contains Vaping Equipment and Supplies
Please confirm that you are of Legal Age to purchase Vaping Equipment and Supplies in your country
Welcome to the New CiggyJuice Website.




Last update 13

th

April 16
After many weeks of hard work we welcome you to our new website, after listening to your comments and with the increased business we had to do something
to improve our systems, and hopefully this is the start of something that will grow with us all. Just about all of the liquids are on this site now (please let us know if any are missing)
and we are working as
hard as we can to put
as many new items as we can, as soon as we can, so please bear with us.

We are sure there are a few things that will need to be tweeked
and will of course change all known issues as soon as we are aware of them.
Please let us know if you have any problems.


The new site will enable you to create your own account with ease, view your previous purchases, only enter your address ONCE! Write reviews (good or bad)
pay with credit or debit cards, Paypal, or you can even pay by Bitcoin (Via Coinbase)


You will earn rewards points for signing up, more points if you subscribe to our newsletter, write reviews on our products and even rewards points for all purchases.
Live messaging will be available soon (during office hours) if not leave us a message just click on the bottom right hand corner of the screen.


David, Sue & the CiggyJuice Team
Bestsellers
Featured